Recent Interior Design Projects in Toronto and Area
Style is personal. That's why I work closely with my clients to design a space that suits their individual style – whether that's ultra-modern, vintage nostalgic, contemporary, eclectic or something else entirely.
The following samples of my work gives you an idea of how I have planned and reimagined my client's spaces in different styles that reflect each of their lifestyle and personal preferences. Designing with my clients' style as the key inspiration means that each creation is developed uniquely for them…and that's what I would do for you!
Bedroom Renovation
Lower Forest Hill Retreat
Renovation of teenage daughter's bedroom, transformed into a relaxing and comfortable, contemporary, Guest Bedroom retreat – with careful consideration to budget. A space re-imagined with a new, soothing colour palette – taupe and smoky blue. Fabulous fabrics, such as velvet and linen adorn the windows, bed, headboard and bench and a new arm chair complete the guest bedroom. Integrated the existing built-in shelves, and bench to keep the cost down. Incorporated special family heirloom pieces, bedside table and a chest of drawers.
Bathroom Ensuite Renovation
Lower Forest Hill Sanctuary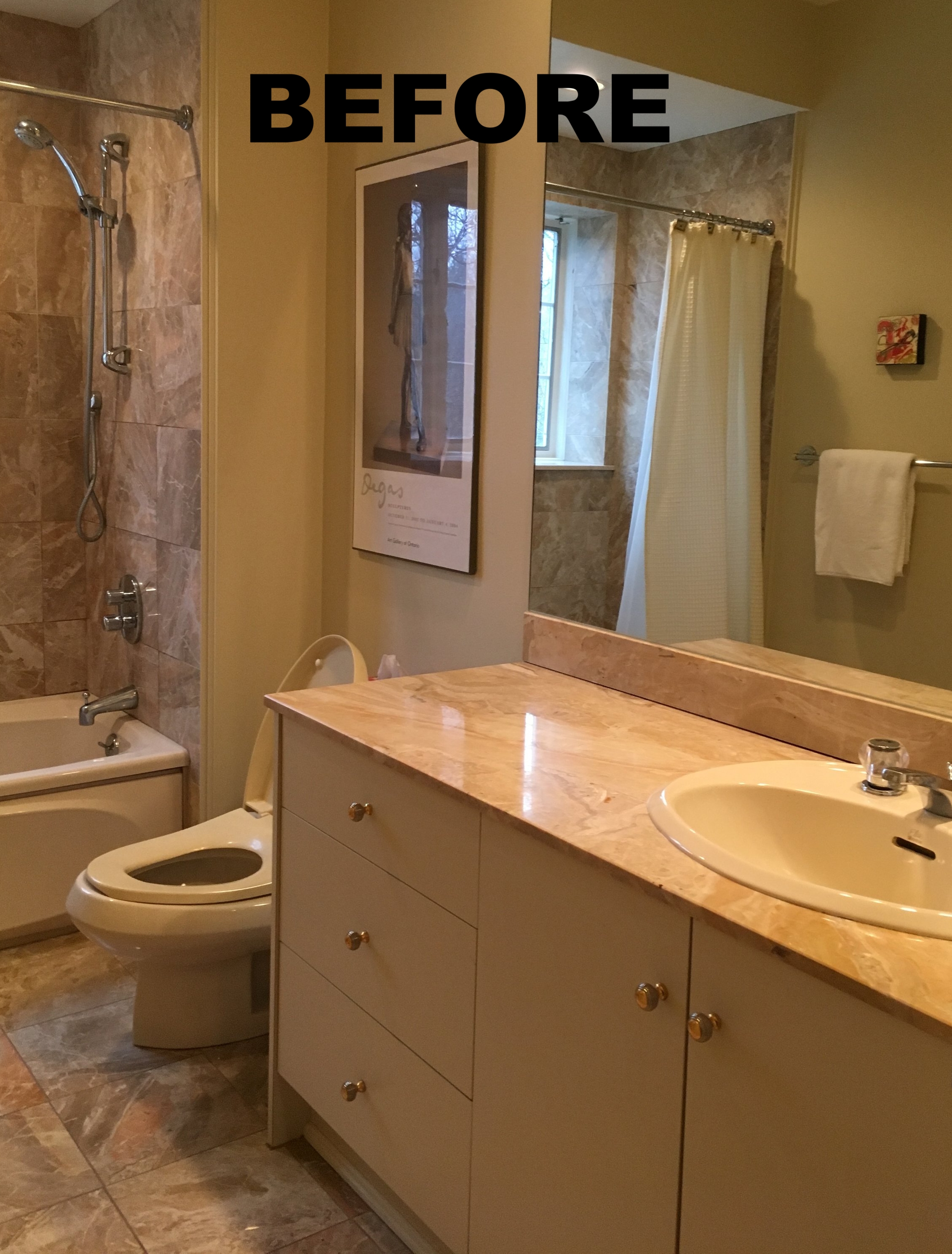 Contemporary Kitchen Connection
Forest Hill Kitchen Renovation
Complete renovation of a bathroom ensuite from an outdated space to a contemporary sanctuary. Bath, toilet and sink remained in the original location to keep costs down. New tile floors and bath/shower area revitalizes the space. Updated the existing vanity with new counter top, faucet, mirror, vessel sink, and contemporary knobs to refresh the look. Addition of smoked glass adds privacy to front of house windows in shower area.
This Kitchen project began by developing a plan. The space was totally reimagined which included taking down a wall, and gutting everything else - all of the cabinets, appliances, and floor – to open up the flow. We left the plumbing in its original location to save some money.
With new custom cabinets, granite counters and a multi-purpose island, we transformed this humdrum kitchen into the social hub of the home – perfect for cooking, eating and entertaining.
Modern Tranquility
Lytton Park Bedroom Makeover
This bedroom was reconfigured and fabrics were selected for my client in shades of plum, which is her favourite colour. The new plan also required a custom bedframe and headboard in precise proportions to accommodate her back issues. A sleek vanity, storage bench, mirrors, radiator cover, and custom designed built-in millwork for additional storage completed the plan.
The made-to-order leather headboard is framed by custom window treatments as the visual focal point. This bedroom was transformed into into a highly functional and soothing place for rest and relaxation.
Distinctively Eclectic
Forest Hill Powder Room Renovation Project
We renovated this small powder room to create more space with style. The modern eclectic décor is a stylish fusion of different cultures and perfectly reflects a unique personal style.
Eclectic feel. Favourite treasures.
North Toronto Living Room Interior Design
We designed a living room to incorporate treasured travel mementos with new furnishings and a fresh colour palette. The room feels luxurious and comfortable – ideal for parties, cozy chats or solitary relaxation.
See how this room has been designed with a cohesive colour palette and style that flows from the Living Room to the Dining room (below).
Entertaining integration
North Toronto Dining Room Interior Design
This Dining Room colour palette is identical to the colours used in the Living Room (above). This creates a seamless transition from one room to another. Dining Room chairs complement the living room décor so it's easy to use them as extra seating when needed. The Dining Room itself is designed to accommodate both intimate dinner parties and entertaining buffet-style for a crowd.
Rustic Chic Family Room
Leaside Family Room Project
A space for a Dad and his boys that is welcoming and warm yet functional. This room has been designed with a masculine flair and a rugged yet stylish appeal that flows from the Family Room to the Kitchen. The Kitchen sample below illustrates how I have made the Family Room and Kitchen feel cohesive in this open concept floor plan.
Rustic Chic Kitchen
Leaside Dining Room Project
A welcoming and warm yet functional Kitchen space for a Dad and his boys. This space has an open concept floor plan with a Kitchen and Family Room that have been designed to complement each other and style that flows from the Kitchen to the Family Room. The upholstered chairs are designed so they can also be used in the Family Room for extra seating to accommodate friends. (see above).